Dean of Students spotlight
A Behind-the-Scenes Look at Whitney Daugherty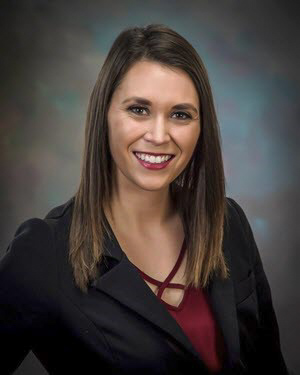 Over the past year, Vincennes University has undergone many different changes. Some of these changes have had to do with the difference in how classes operate and other changes revolve around the different positions on campus. Whitney Daugherty may be a familiar face amongst the Trailblazer faculty and staff, but she is a new face for the role of the Assistant Provost for Student Affairs/Dean of Students. 
"I have had the pleasure of working at Vincennes University twice, first as the Director of Student Activities and now as the Assistant Provost for Student Affairs and Dean of Students. I came back to the University in May of 2020 to fill this position," Daugherty explained. 
VU has held a special place in Daugherty's heart for a few years due to the uniqueness of its roots and background. 
"I fell in love with Vincennes University during my time as the Director of Student Activities. I enjoy working with our unique student body. We have individuals pursuing their certificates, associate degrees, and bachelor degrees. VU encourages students to get the hands-on experience that is vital in so many fields, has wonderful faculty and staff who work hard to help students succeed, and offers on-campus living," Daugherty said. 
Daugherty gained the experience and skills needed for student affairs by obtaining her education from a group of notable schools. 
"I started my college career at Ivy Tech Community College and pursued human services…when I graduated I chose to stay at Ivy Tech to finish my associate degree. I then pursued my bachelor's degree in social work at Indiana University East. I completed my masters degree in student affairs and higher education at Indiana State University. I chose ISU because of the hands-on aspect of their program. I was able to complete three assistantships, a graduate-assistantship, and a part time job while at ISU. I liked that the program was not all research based, I was able to go out and apply what I was learning in the classroom to real life situations," Daugherty said. 
Daugherty expressed that her love for working with students inspired her to work in the profession that she is in. 
"I worked as a student ambassador during my undergraduate and I loved working with students," Daugherty explained. "I enjoyed watching them come onto campus and be excited about the next steps of their lives. I was able to help them with anxieties, questions, and concerns. I was inspired by watching students light up at the thought of being in college. I was able to put my social work degree and my love of working with students together and make a career out of it."
When asked about what she likes most about her job at VU, Daugherty explained that the wonderful students and staff on campus really plays a big part in her love for the job, along with the fact that she gets to work with both. 
Daugherty keeps pretty busy during a typical work day as the Dean of Students, but her love for the job grows each day. 
"A normal work day starts with emails. I try to answer as many Emails as possible before meetings begin for the day. I usually have between three and six meetings a day depending on how busy my day is. The rest of the day is spent helping answer questions from staff, faculty, and students, speaking with staff, and working through any concerns that may come through my office." Daugherty stated. 
"Being the Assistant Provost for Student Affairs and Dean of Students at Vincennes University brings me so much joy. Having a job where I can help students and staff overcome obstacles and ultimately succeed, is one of the best jobs I could imagine," Daugherty expressed.