VU hosts transfer fair for students looking to further their education
On Tuesday April 5, Vincennes University hosted a transfer fair in the Jefferson Student Union for students wanting to continue their education.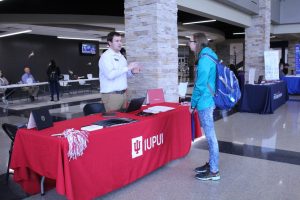 Representatives from 15 universities from Indiana, Illinois and Kentucky attended the fair to share information about their admissions procedures, scholarships and many other things relating to the transfer process.
The transfer process is usually very similar for most four-year universities. 
Kim Lund, Transfer & Veteran Services Coordinator at Indiana State University (ISU), said that ISU's admissions process is very simple. All students need to do is fill out an online application to the university along with providing their transcripts from their previously attended college.
Lund added, "Having a bachelor's degree opens the doors and typically a ticket to higher paying jobs than just having an associate's degree."
Annabeth Gillon, a transfer advisor at Western Kentucky University (WKU), gave some advice on how to get a head start in the transferring process.
"Some tips to make it a little bit easier are to apply early and figure out how your credits transfer over to get the ball rolling, that way they have a greater chance of getting into their classes instead of waiting until the last minute to enroll in what's leftover. I always encourage students to apply about a year in advance for the best chance for scholarships and to get everything figured out," she said.
Transferring to a four-year college from a community college can also have a lot of benefits for students.
"The benefits of starting out at community college is a great way to get your core classes out of the way so that you can transfer to a four-year university like IUPUI to finish your degree," Logan Bromn, an admissions counselor from IUPUI, said. "It's a cheaper way to earn your college degree. In our experience, transfer students often graduate with higher GPAs and on time compared to our traditional students."
Students who attend seemed happy with the opportunity to expand their knowledge about how four-year universities could help them with their career journey.
Faith Goodwin, a Law Enforcement major from Lake Village, Indiana, and Anna Kemmerling, a Business major from Terre Haute, Indiana, said they were content with the vast amount of options at the transfer fair. They stated that the transfer fair gives students more options to help further their career.
Josie Kidder, Ben Edwards, and Malcolm Cole contributed to this story.