25 Years Later: Remembering Brook Baker
Family, friends, and professors reflect on VU journalism major
It's been 25 years since devastation spread across Vincennes University's campus when a student's life was taken too soon.
On Sept. 7, 1997, tragedy struck when journalism major Brook Baker was found in her off-campus apartment; she had been brutally murdered and assaulted.
Many suspects were looked at surrounding the investigation. The case went cold until two years later, when another VU student, Erika Norman, was murdered in the same way. 
With improved DNA testing, investigators linked Brian Jones to the murders. On Dec. 14, 2000, Jones was sentenced to life in prison without the possibility of parole.
Although Brook Baker is not here today, her spirit lives on.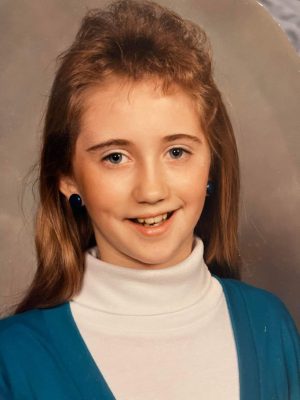 A Sister, Student, and Friend
On April 24, 1978, Brook was born into the Baker family. Her brother Braun Baker of Vincennes, described her as a headstrong, independent girl with many goals and a lot of potential.
"It's really hard to have a favorite memory of her because we were so close in age, all of my childhood memories involved her," he said.
According to those around her, Brook was a lively, ambitious, and determined young woman who would stop at nothing to achieve her goal of becoming one of the best journalists of her generation. Brook majored in journalism and was the editor of the student newspaper, The Trailblazer, at VU
Michael Mullen, a Vincennes native and former VU English and journalism professor, shared his memories of Baker.
"When she was around, you knew she was there. Brook was ambitious, fearless, and had a great personality. She was not afraid to approach people and loved to learn new things," he said.
He added, "I remember there was this one time she said that if anything happened where the staff got sick, and she was the only one left, Brook said she would run the whole paper by herself, and she probably would have. She developed her skills, and I believe that if she had the chance to, she would've made it big and had a lot of success."
Rebecca Mullen, a semi-retired VU English professor and Vincennes local, who is also Mr. Mullen's wife, knew Baker very well. 
Like the small, close-knit family they were, The Trailblazer staff and the Mullens spent time having cookouts and small get-togethers. 
"Brook was a fun and ambitious young woman. She was outspoken and felt very strongly about many of the important issues of the time. As a journalist, she was still a bit 'rough around the edges,' but her heart was 100% in her chosen field, and she wasn't afraid to tackle harder news stories. I think, had she lived, she would have settled into her role as reporter an editor and been a success through transfer to a [journalism]-department at a larger university. The summer before she was murdered, she occasionally stop at my office to talk with me about what was happening on campus, what she wanted to write about, and sometimes to talk about the next steps in her career path," said Mrs. Mullen.
Mrs. Mullen also noted that her daughter, Kathryn, and Baker were very close. She said as Kathryn and Brook spent time in the news lab together doing homework, Kathryn became "a little in awe of her and her personality." She also mentioned that Brook gave her a ring that Kathryn cherished and wore for a very long time, especially after Brook died.
Brook was said to have been an energetic and popular person, making friends wherever she went. 
She and Shawna Cooper were thick as thieves.
Cooper, who is originally from Vincennes, was Baker's colleague at the student newspaper and her best friend. Now living in Plano, Texas, Cooper reminisced about her college days at the paper with Baker.
"She was an awesome person, and she had tenacity. She was not afraid to go after what she wanted," said Cooper.
Honoring a Legacy
Honoring Baker's resilience and undying love for journalism, the Indiana Collegiate Press Association (ICPA) remembers her by naming one Indiana college student journalist each year with the Brook Baker Indiana Collegiate Journalist of the Year Award. The award was created in 1999 in her memory and has been given out to Indiana college journalism students inspired to make a difference in the world ever since. 
"Brook had the dream of becoming an important journalist to help make a positive impact on the world that she couldn't wait to explore, and VU was her first step in realizing that dream. Were she alive today, she would likely tell your readers to continue to reach for what they want in their lives, and although they may experience setbacks, which they probably will, should use those setbacks not as deterrents to their ambitions but as ways to improve and grow," Mrs. Mullen said.