Come on down: Broadcasting class hosts trivia game show
Trailblazer Trivia creates buzz
Game shows are a big thing on television networks all across the United States. They range from The Price is Right all the way to Jeopardy. Here at Vincennes University, we have our very own student run trivia show. 
Professor Eric Stidman and the upper level broadcasting class, which is Producing and Directing, have started their own trivia show called "Trailblazer Trivia." This class is only offered in the spring, so usually students in this class are preparing to graduate. 
The show consists of a series of questions from different departments around the VU campus. This was a vision of students. The upper level broadcasting class chose to do a game show. 
A sample question from the show: "Before becoming the web's video giant, what was YouTube supposed to be?" The answer: "A video dating site." 
They were going to officially put this on last year, but then Covid-19 put a hold on it when students were sent home and school was moved to online. 
It took about six weeks to set everything up. Students built their own sets and wrote their own questions.
By doing this trivia show, the upper level students are getting an advanced look at a relevant TV production, Stidman said. A few skills they are learning is running a camera while filming and running a production board. 
To find the contestants has been a tricky part. At first they had contestants around campus invited by students from the class. They also asked peers, friends, and they even tried to get President Johnson, but he had scheduling conflicts.
There are four promotional spots that run during the show during breaks. These spots showcase some of the programs that VU has to offer. The programs are also based around the questions that are asked. The students went out during their class time to capture video and audio for the promotional spots and then added voice overs to finish it off. 
Jonathan Danz  from Beech Grove, Indiana said he was a little bit nervous or as he put it, "This is uncharted waters."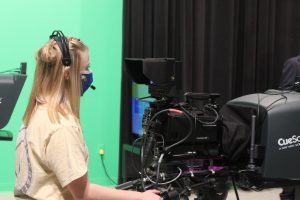 He said it makes it more interesting. Danz is a second year student at VU and will be graduating this spring with a degree in Broadcasting. 
DeAndre Barton created the graphic template for the show. Cara Eichler designed the graphics and podiums for the show. 
As far as doing more like this in the future, Stidman said it is always on the radar. This would be an opportunity to give the students "the keys to the car" and do it themselves.
Stidman said he is proud of his students.