Remembering Ernie Ladd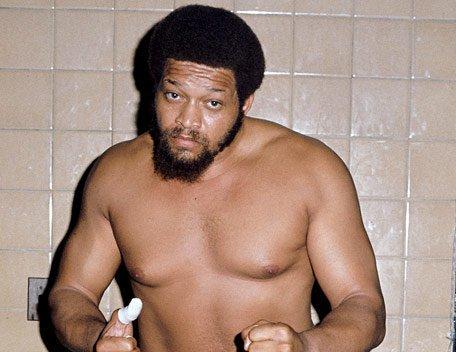 Ernie Ladd was an American football player, who played professionally in the American Football League, which would later go on to be the National Football League. Nicknamed "The Big Cat", Ladd was the biggest player to have played in the league during the 1960s at a staggering 6 feet 9 inches tall and weighing 300 pounds. Ladd would use his size and natural athletic ability to become a four time AFL all star and an AFL league champion during his eight year tenure.
Perhaps Ladd's most memorable accomplishment during his professional career came prior to the 1965 AFL All Star Game in New Orleans, Louisiana. What happened was, Ladd and the other black athletes in the league arrived in New Orleans for the game a few days prior and the city was less than welcoming of them. Black players were being refused cab rides or being let out of cabs miles away from their destinations, denied entry to restaurants and clubs and the targets of a bevy of racial slurs and insults from business owners and citizens alike.
The final straw for Ladd was when he and some of his teammates were turned away from a nightclub at gunpoint. He took great exception to this, not only due to the excessively violent and dangerous nature of the threat, but also because he could hear the club playing James Brown inside. The club owner had denied him and his teammates entry based on their race, but had no problem using the art of another black man for his own gain. After this, Ladd and his teammates came together in a meeting, and he insisted they boycott the game due to their treatment in the city. All of the black players and many of the whites ones agreed and because of this the game had to instead be moved to Houston.
During his time in the AFL, Ladd had also dabbled in Pro Wrestling, where he quickly became a money-drawing name in the sport. After he retired from football, Ladd went in to wrestling full time where he also had a very successful career. He went on to become a main event level star all over the world from the United States to places like Japan and Mexico. He would wrestle legendary matches against the likes of legends like Andre the Giant and even challenged then long-time WWWF champion Bruno Sammartino for his championship in Madison Square Garden.
Ladd also worked behind the scenes in wrestling. In NWA Mid South Promotions he worked as a booker, or someone who helps plan out matches and creative direction for the show. At the time, it was unheard of for a black person to work in this role. As a booker, Ladd played a huge role in Mid South pushing a wrestler known as The Junkyard Dog. The Junkyard Dog would go on to be one of the territories top stars. At the time this was also unheard of. No territory had chosen to center their business around around a black wrestler before and Mid South had both Ladd and Junkyard Dog in top positions. This caused the territories owner, Bill Watts, to receive lots of hate messages including death threats.
Ladd would go on to be inducted in just about any prominent wrestling hall of fame imaginable included the WWE, WCW and Wrestling Observer Newsletter Hall of Fames.