Lyles Station Celebrates 100th Anniversary
VU professor serves on board of directors, share thoughts on the importance of appreciating black history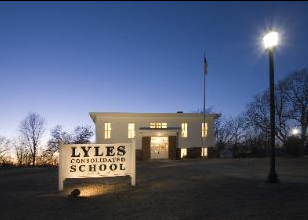 Stepping into Black History Month, Gibson County's Lyles Station will celebrate its 100th anniversary on Feb. 19. 
The Lyles Station School in Princeton, Indiana, (about 30 minutes south of Vincennes) was built in 1922, lending students the education they needed to succeed until its ultimate closure in 1958. The historic value and meaningful stories behind the building, with the efforts of Stanley Madison, a former resident of Lyles Station, put the station on the National Register of Historic Places in 1999, as well as on Indiana's Ten Most Endangered Places, according to website
Lyles Station was once used as a location for the Underground Railroad, a passageway used to help slaves gain their freedom.
The Lyles Station is now open for tours to show artifacts and give people the chance to observe the monumental achievements and significant contributions to the community of the school and those involved, including former students, faculty, staff, founders, and those who are keeping its memory alive.
VU English Professor Tyson Sims from Detroit, Michigan, serves as a board member at the Lyles Station Museum. He said the legacy of Lyles Station is vital to remember because it is the oldest black settlement in Indiana and because of its contribution to the state's history.
Sims said, "Black history is also Indiana history; we should all recognize and appreciate the school to get a full sense of its historic contributions. Lyles is a symbol of the community, and the settlement has a permanent spot in the African American Smithsonian in Washington D.C."
He added, "In addition to the Lyles Station, there is a lot more black history in Indiana, and I think as a community we should all make efforts to make other black history known."
An event will be held at the Lyles Station this Saturday, Feb. 19 at 1 p.m (CST) with featured guest Eunice Trotter. Trotter was the first African-American woman to serve as an editor for the Indianapolis Star and worked for the New York Post. She is also a part of the Indiana Journalism Hall of Fame.
For more information visit their website or their Facebook page.