Dining Options: A Look at the Tecumseh Dining Center
The Tecumseh Dining Center is where many Vincennes University students and staff go to eat and enjoy the social and friendly atmosphere. They offer breakfast, lunch, dinner, and a 'simply to-go' option; each one having a specific time they are open every day. 
Many students pay a lot of money to go to college on their own, and others are running on scholarship money. So when those students expect to have ample time to eat at the dining center instead of having to go out to eat almost every night, some face challenges.
Automotive Tech first year student Zacchaeus Humphrey revealed, "Usually I eat twice a day, but I know some people who only get to eat there twice a week."
He also added that sometimes he has to rush through some meals because he is on a tight schedule.
"When I don't have time to go to the dining center or they are closed I usually skip the meal, or if I have time I'll go eat at McDonalds," he said.
Some students like Humphrey feel like the Tecumseh Dining Center has a lack of variation and a lack of healthier food options.
When asked if he could change anything about the TDC Humphrey replied, "I would definitely love more of a variety, especially of healthy options. It seems that they have the same food all the time and the only healthy thing they usually have is salad, and sometimes that's not even open."
He explained, "It's not bad, I just wish they mixed the food up every once in a while instead of having the same food every day, and I also wish they offered more healthy options because it's hard to stay healthy when you don't have an oven or a stove in your dorm room to cook healthier stuff."
Although the hours and food variation frustrates some students, one should not forget to take in account the pressure that takes a toll on the faculty and staff at the Tecumseh Dining Center.
Vincennes University Dining Services Director Jim Herman has worked at the Tecumseh Dining Center for 3 ½ years.
"Days at the Dining Center are generally similar, but each day of the week has different tasks associated with them such as staffing, customer suggestions, menu planning, ordering, finances," he said. "I love to meet new people and I try to be available for students at each meal, usually late breakfast, lunchtime, and at the beginning of dinner."
Some students do not have time to stop by and eat because of their class schedule, but Herman said the TDC has an option for those students.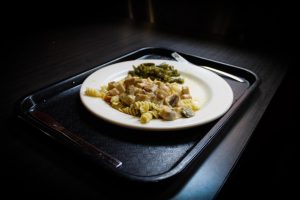 "One option is the TDC 'Simply to go' area for a quick service to-go meal between the hours of 10:30 a.m to 4:00 p.m on Monday through Thursday, and 10:30 a.m. to 2 p.m. on Fridays. Another option is that if a student is in class the entire meal period they can always bring us a copy of their class schedule and we will provide them with a scheduled pre-made meal." 
For those wondering about how the dining center works and how they can input their suggestions, they can fill out email surveys which are periodically sent out to get feedback from students.
Herman emphasized, "The university takes into account many factors such as general class schedules, student feedback, administrative factors, and the overall need for a quick meal. Dining services feels confident that the hours we are currently providing meets the majority of our students' needs. And, as I mentioned earlier, we have options if there is a conflict."