Broadcasting professor shares journey from TV news to the classroom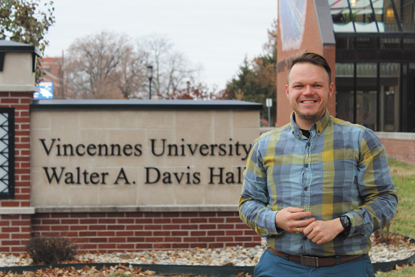 You never know what a person's story is until you ask.  VU Broadcasting professor Eric Stidman's story is not what people might expect.
     It started in his junior year of high school at North Terre Haute when a bunch of his classmates decided to take a trip to Panama City Beach for their spring break.  He, at the time, did not have the money to make the trip, so, he and his friend Sam found a solution.
     Stidman had a fundamental idea of how to play the guitar, so they decided to record and sell an album in order to make money to go on spring break.
     Through this he discovered that he had a talent for recording audio. He went to his high school counselor who told him about VU's audio recording program.  This led him to attend VU majoring in audio recording and guitar after his high school graduation.  He earned his degree, but realized he might want to pursue a different career path.
     "I was not a rockstar, and I was never going to make it to Nashville or Seattle," he said.
     So he began working at Lowe's in the lumber yard until one day he was approached by his friend Kaleb from VU who told him he should take a tour of WTHI Channel 10 news station in Terre Haute where he worked.
     There, Stidman got to meet many people that he grew up idolizing such as Mark Allen (news anchor), Patrece Dayton (news anchor), and Kevin Orpurt (chief meteorologist).
     After touring the studio, he decided he wanted to work in a news station. His friend, Kaleb, told him they were hiring account executives, who sell air time for ads. Stidman did not want to do this because he wanted to be on the air.  This meant Stidman had to return to school for the second time here at VU.
    This time, he majored in broadcasting; this degree led him to being hired straight out of VU to a TV station in Cedar Rapids, Iowa.  From there, he went on to work at another station in Henderson, Kentucky and then had the opportunity to return home to Terre Haute to work for Channel 10.
     He moved up in positions as time went on, he started as a producer writing the newscast and then moved to executive producer where he revised everyone else's newscasts.  He then was promoted to WTHI Southern Bureau Chief, meaning he was given an office in Davis Hall here at VU while working for Channel 10.  So, as Stidman said, he was back at VU for the third time in his life.
     From here, he was given the opportunity to try anchoring the weather at Channel 10 since the station lost their morning meteorologist to another station.  He was promoted to morning weather man and did that for three and a half years.
     "News 10 gave me a lot of cool opportunities," he said.
     This includes the opportunity to "beat out" many other media personalities from his own work in a popularity competition to ride on a US Navy Blue Angels jet in 2018.
     He did so as a media rider and flew for 45 minutes including loops, gravity defying turns and everything in between.
     But as Stidman noted, being a part of the news can have a negative impact on family life. So, when he was told about the Broadcast Program Chair position opening up at VU he decided to take a leap of faith for his family.
     He got the job in August and returned to VU for the fourth time in his life.
     "I felt I had this duty to return to VU, which has a historic, historic broadcasting program, one of the best in the state, to continue to prepare graduates," he said.
     He also came back due to, as he put it, "karma." He loved VU as a student and finding himself as a part of a team of individuals who care about their students' success.
     For him and his family, this was the best choice; he was burned out at the news station because he was not being challenged any more.
     The balancing of roles as a professor and a parent helped to fill this need for a challenge.
     Besides teaching, Stidman has participated in two triathlons, eight to ten 5K's, and is always participating in a cover band playing guitar and singing.
   He also volunteers as a coach for youth volleyball and soccer giving him more time with his kids.
    As Stidman himself said he is,
"A failed rockstar, turned TV broadcaster, turned morning weatherman, turned college professor."