VU's classic French play opens in RSPAC
Molière's Hyprocrite Shows at VU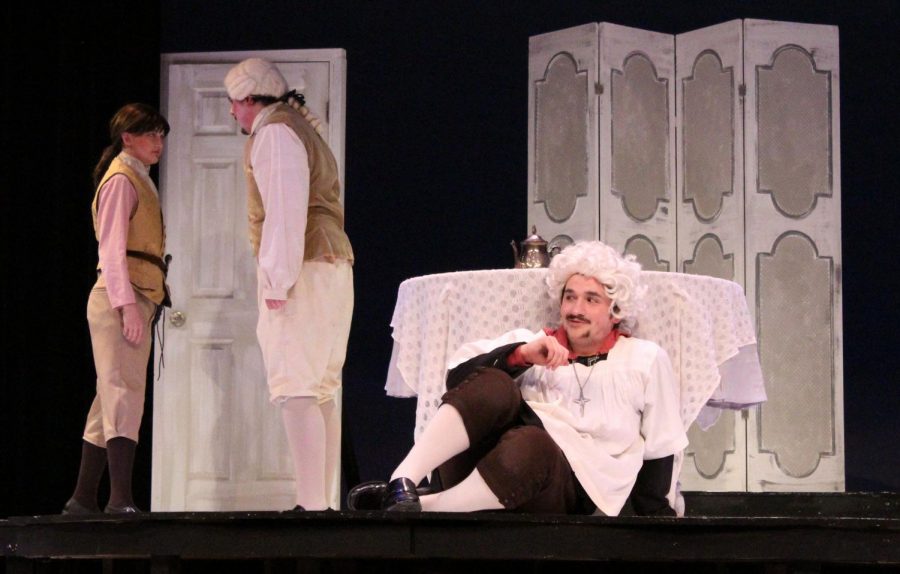 Kami Minnich, Editor
April 11, 2019
VU's theatre program tries every year to perform a classic play, one 100 years or older. This time around, director and program chair Kendra Clauser has chose Molière's Tartuffe, written in 1664 and translated into English verse by Richard Wilbur in 1963. Clauser said the appeal in this play was its ties to the theatre history class.
"It's always one of the plays we read and people always responded very positively to it so I thought it would be a good choice," she explained.
The story is set in 17th century France in the house of a rich Frenchman, Orgon, who has invited Tartuffe to live with him and his family under the false pretense that the title character is a poor, religious man in need of lodging. However, the other inhabitants of the household are more skeptical of Tartuffe's tale of woe, and begin to confront him at every chance. Once he makes an appearance, that is.
"It's looking at comedy from a different time period and seeing how it's similar to comedy today," Clauser continued. "Because there are aspects of it that are like sitcoms, there's aspects of it that are like SNL. So, there's a lot of similarities even if something is written many, many, many years ago."
Megan Gregory plays Orgon's wife whom Tartuffe vehemently tries to seduce, much to her chagrin. The challenge in this? Gregory's real life husband plays the impostor to which her character shows much disdain.
"Elmire is trying to get her husband to see that Tartuffe is not quite what he seems to be[…] The challenge is showing the dislike and distrust that [Elmire] has for Tartuffe instead of actually, 'Oh yeah, I actually care for this man in real life,'" Gregory said with a laugh and a smile.
This production features a cast and crew of students and community members. VU students include; Jaime Boyles-Taraschke of Evansville as Madame Pernelle, Jake Sexton of Bloomington as Orgon, Sutton Cuevas of Valparaiso as Damis, Jessica Mansfield of Indianapolis as Mariane, Garrett Barrasas of Hobart as Valère, Jay McFarland of McCordsville as Cléante, Hannah Mohr of Thorntown as Dorine, Amber Hill of Huntingburg as M. Loyal (understudy Elmire), Jaydon Edwards of Hazleton as the Police Officer (understudy M. Loyal), Jordyn Wesner of Martinsville as Flipot, Swarsattie Brown of Pendleton as Master Servant (understudy Dorine and Flipot), and Kristen Heshelman of Elnora as Servant (understudy Madame Pernelle). Community Members include Kyle Gregory as Tartuffe, Megan Gregory as Elmire, and Forrest "Bud" East as Servant (understudy Tartuffe).
Performances are April 11, 12 and 13 at 7 p.m. and April 14 at 2 p.m. in the Red Skelton Performing Arts Center.
Cast list courtesy of Vincennes University Department of Music and Theatre Program Facebook page.