VU's new radio station: ALT 91 now a student-run medium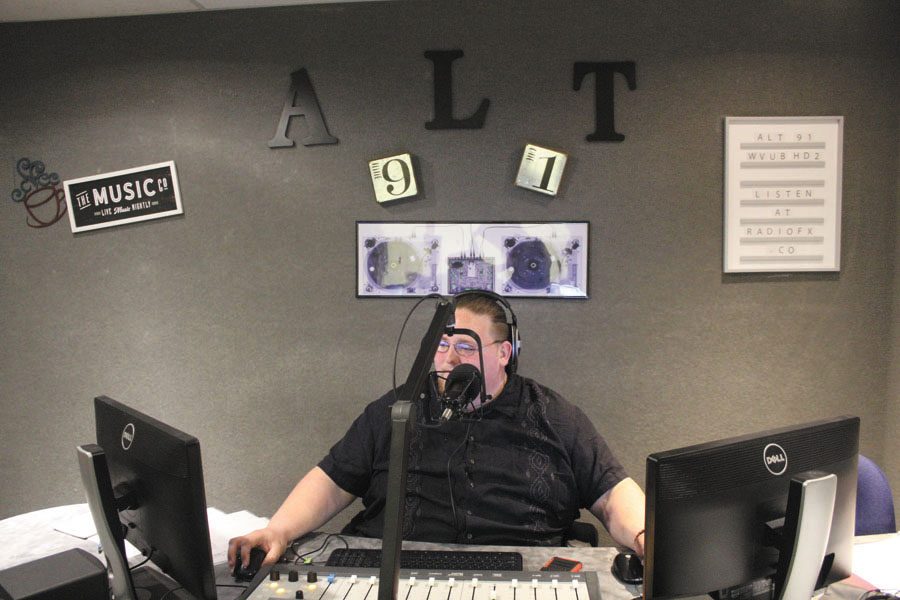 Oliva P. Tucker, Sections Editor
March 26, 2019
Broadcasting students at VU have a new opportunity to experience the real world through the newly relaunched WVUB Hybrid Digital Transmitter 2 (HD2)–ALT 91. According to Kevin Watson, the general manager of WVUB, HD2 used to be a smooth jazz station.
"A couple of years ago, as we were looking at all of our assets we had and what our needs were we determined that we would like more opportunities for students to be involved in our radio operations," Watson said.
Watson added that students have and will continue to be involved in HD1 Blazer 91.1. HD2 doesn't take away, but adds more opportunities to include students.
Another factor to the change for HD2 from jazz to an opportunity for students was because not a lot of people have HD radios, according to Watson, so the amount of listeners wasn't at the potential that would of been preferred to be reached for HD2.
"We were looking for what else we could do to attract listeners," Watson said.
Because of there not being as many jazz listeners, the repurpose of HD2 is to be more youth oriented and friendly to VU's campus which is why it changed to an alternative rock or adult album alternative (AAA) format.
According to Watson, AAA is more of a wide open format, where deeper cuts of an album are played, but primarily the focus is on the alternative rock portion.
The station isn't student managed, according to Watson. There is staff involvement and supervision from WVUB. This is a requirement for the Corporation of Public Broadcasting, which provides funding. There are student-produced shows that are currently on the air.
Watson added that he applied for a Wathan Grant in a previous grant cycle. Wathan Grants are designed to help support projects that promote the campus, student interaction, and technology. It was proposed according to Watson that they would work with a company or develop their own app that would target students to stream the signal of the radio station on the app. They partnered with RadioFX which can be found online at radiofx.co and they also have an app. This platform also has other universities and not just VU.
Watson said they received just under $20,000 from the Wathan Grant which allowed WVUB to redo one of their radio stations for ALT 91, which has new furniture, computer, and operating system. This also included the app for the grant as well.
Watson said, "Part of this is our effort to help develop more of a sense of community on campus, which I know is one of the things that Dr. Johnson […] is wanting to do. So as this rolls out and becomes popular and we get more people downloading the app and listening, we are hoping to be able to do that, that students are able to talk to students over the air."
Watson said, "We are trying to create a hub basically for information for the campus, especially as it applies to students."
Andrew Bolin, program chair and assistant professor of broadcasting, shared his thoughts about the radio station.
"HD2 is just another outlet for our students to have that real world experience being on the air. And so we adopted some courses to take advantage of this studio space," he said.
According to Bolin, these courses include broadcasting audio production, radio practicum and broadcast industries. These three classes will oversee the radio station. Which students will be utilizing inside and outside of class time to be a part of the station.
Bolin said, "One of the goals was for me was to give students an opportunity to exercise the craft to practice being on air. To get some experience being on air without putting them on the main station, 91.1 Blazer."
Bolin said as of right now ALT 91 is mainly for broadcasting students and there are 10 to 12 students actively involved with it. Within the next semester. there is hope to get more broadcasting students involved.
"I think one goal for me is to actually see it open up campus wide to other students, not even just broadcasting majors. But anybody that's interested to see what it's like to work at a radio station," he said.
Students are on the air currently one to two hour shifts as a DJs, but Bolin would like to see that expanded to more and more students.
"We want this to be kind of student focused […] this is really more geared towards the college student."