Seeing graffiti from a new perspective
Take a dive into the world of graffiti or as many call it "street art." That is exactly what it is: art that is out on the streets for the public to view. Many people in society only see the negative in this type of outlet and the way artists express themselves for the public to see, but there is so much more to it. Sure there are negative themes and derogatory words used in many pieces or some are simply just spray painted randomly, but that should not define graffiti as a whole.
As an individual who grew up in a small town where graffiti was not prevalent, I always found it interesting and wanted to explore it more. I found it to be unique, and I honestly praised the artists for putting themselves out there to be judged by anyone and everyone.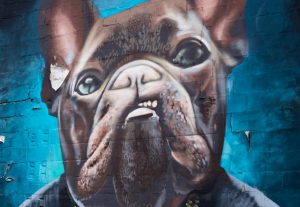 Many people have no idea the amount of hard work and dedication that goes into the pieces these graffiti artists, or better known as street artists, create. So I have dedicated my last semester as a part of the VU Trailblazer newspaper to showcasing this amazing artwork and getting these artists the exposure they deserve.
For this issue I am showcasing and talking about a piece titled "Frenchie" located in the Fountain Square Cultural District in Indianapolis. This piece is considered as a mural and was painted by the Fab Crew along with graffiti artist Gamble, an Indy native who lives in Cincinnati, Ohio.
Frenchie is a tribute to the Cincinnati-based street artist Jason Brunson who went by the name Speedbeard, who passed away suddenly in 2017. His nickname, or street name, came from his ability to paint quickly and then his notorious beard that he always kept up. Before his life as a street artist, he was an in-demand tattoo artist in his family's tattoo parlor in Cincinnati.
The portrait is actually of Brunson's pet French Bulldog, which was the inspiration behind many of the characters that he painted. Each part of the bulldog actually relates to Brunson in some way. His black shirt is simply because that is what Brunson wore most of the time. Not only that, but his sleeves of tattoos are actually replicas of Speedbeard's full-sleeve tattoos. 
Along with the bulldog, or course is the artist's tags to tell people who created the art which is very important to them. This just shows that street art often has meaning, so next time you see some maybe snap a picture and do some research you might be surprised.
If you're interested go check out this Frenchie, and let me know what you think about it. Of course be safe and make your own opinions. Stay tuned for the next piece that I will be sharing the images and story of. Let me know if you know of any other pieces that I should write about, I'm always open to suggestions.