Ground breaking kicks off French Quarter building project
Apartment-style living complex to offer new housing option
Malia Stewart & Kirsten Jansen, Staff Writers
October 30, 2019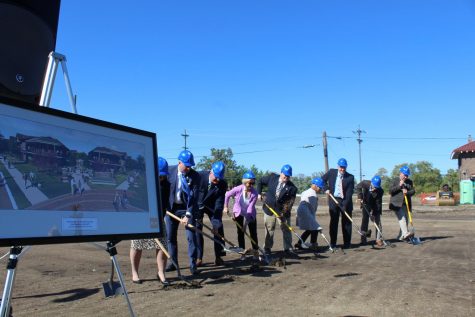 A new housing project is underway on campus. VU officials broke ground on  Oct. 23 on the site of the new French Quarter housing complex.
The complex is being built in an area near the intersections of First, Second and Hart streets. All but one of the residential houses that used to occupy the space were torn down earlier this year to make way for the project.
The French Quarter is a French-Creole-inspired housing complex that is "designed to meet the needs and interests of today's college students," according to a press release from the university.  It will offer students apartment style-living that relates to the area's French heritage.
Dartanyan Abney, multimedia communication major and VU student trustee, is looking forward to the unique addition to campus housing.
"It gives students the option to lean into the real world before having to go out and find their way through life," Abney said.
The housing complex will include 30 apartment units with 92 total bedrooms. The apartments will primarily include three-bedroom units, each with a private full bathroom, shared living space, and a full kitchen. The "Phase One" portion of the project is set to be completed by Fall of 2020.
The ground breaking ceremony included comments by VU President Chuck Jonhnson, as well as Vincennes Mayor Joe Yochum.
  The ceremony was a nice way to kick-off the building project, according to Andrew Young, VU director of architectural services and facilities.
"It went very well," Young said. "I love the fact that so many people turned out."